Background
Back in my home town, there was a local legend. Clive Allen.
Everyone my age I know who grew up in the "Black Country" knows Clive Allen. He was a friendly giant that would travel round schools running basketball workshops and training sessions/days for kids. I have fond memories of attending Clive's session on a Wednesday night at the Crystal Leisure Centre when I was around 14/15. He ruthlessly rejected a shot of mine once in a friendly "who can score against Clive" game and I won a 3-on-3 tournament with two guys whose names I can't remember.

Now, this was just a side hustle for Clive, he was actually a professional basketball player for the British Basketball League's Birmingham Bullets. I had discovered basketball when Space Jam came out in 1996 and as kids do, I became obsessed with basketball. But living in the middle of England meant I couldn't pop down to Madison Square Garden to see the Knicks or get the bus to Chicago to see Jordan, Rodman and Pippen. I had Clive and the Birmingham Bullets.
As I got older and moved away, I lost track of the Birmingham Bullets until recently when I had a real resurgence of my love of basketball. I looked them up and unfortunately they've had a rough time of it.
After more than 20 years as the Birmingham Bullets they went into liquidation in 2006. Attempts were made to bring a professional franchise back to Birmingham in the form of the Panthers in 2007 and the Knights in 2013, but both only lasted one season and currently there is no professional team in Birmingham.
That's sad to me, both because of my own childhood nostalgia and because no more little ginger kids can go see games with their mums at the National Indoor Arena.
It's no secret that my design career is directly linked to basketball – more specifically basketball logos – and so this project lovingly combines the two. If we could bring back the Birmingham Bullets today what would they look like?
This is my love letter – or love hypothetical branding and graphic design project – to Clive Allen and the Birmingham Bullets.
The Brief
Design a comprehensive brand identity for a 2019 basketball franchise for Birmingham, including logo, typeface, uniforms and merchandise
Challenges
The first challenge is the name. After the Bullets had gone into liquidation, the owners of the new Birmingham team decided that the name "Bullets" had too many negative connotations, following the lead of the Washington Bullets who changed their name to the Wizards in 1995, citing a desire not to be associated with the rise in gun crime. The new team became the Panthers and later the Knights.
For my hypothetical team paying homage to original Bullets do I go back to the original name? Or is the association too unwise? I decided early on, like the Panthers and Wizards, that it wasn't appropriate to keep the Bullets name. However I didn't want to try and reinvent the failed Panthers or Knights but rather pay respects to the Bullets whilst moving them into 2019 and beyond.
My choice is the Bulls. It's tough and immediate and references the Bullets, but without the negative connotations. Also the imagery makes sense for Birmingham. The Bullring centre has been a focal point of the city for years and a bronze Bull stands guard in the entrance.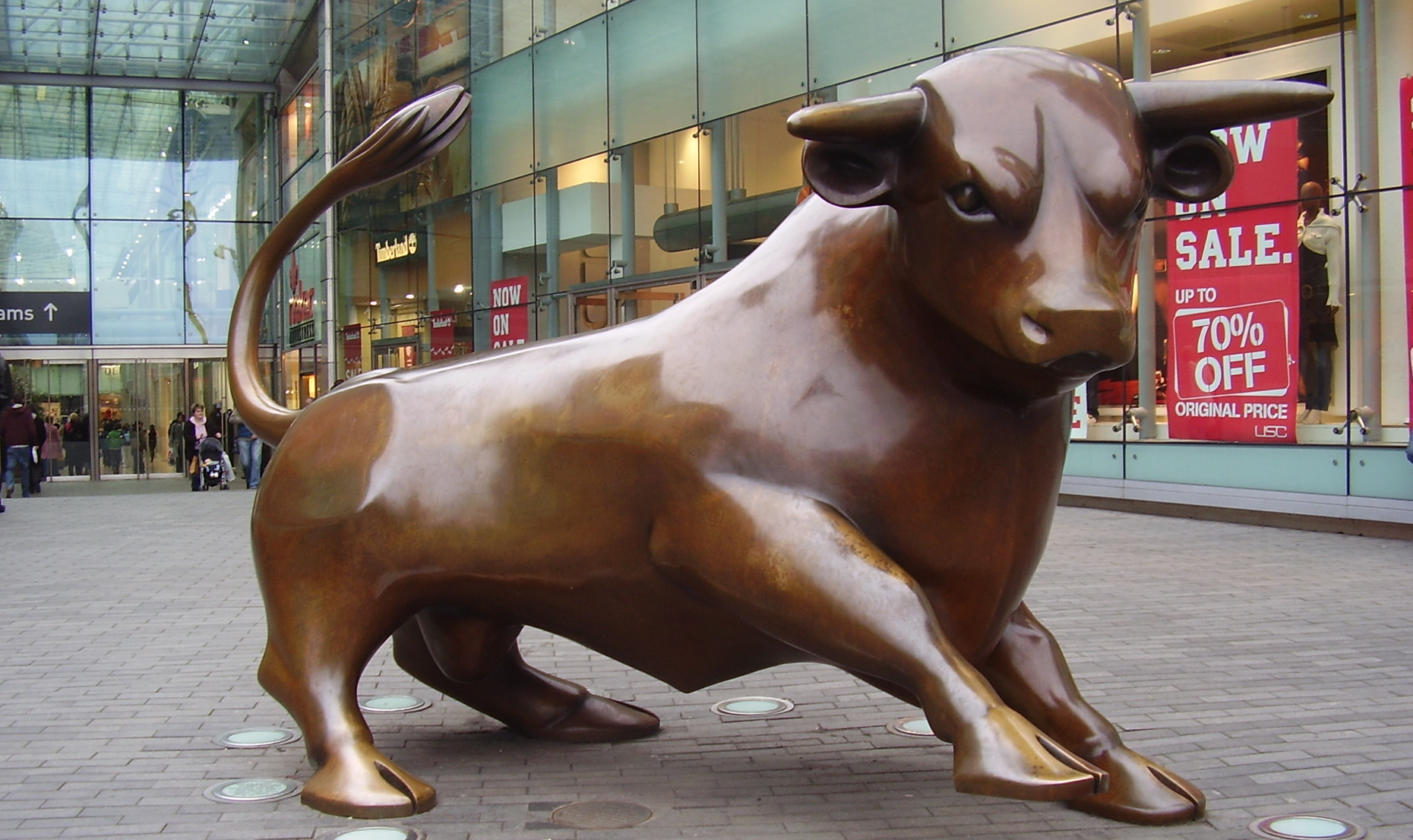 The Project
The Logo
I started, as I do with all my projects, with sketching. I explored various routes. Some more modern and minimalist, some more cartoony like the classic logos of the 90s like the Raptors and Grizzlies.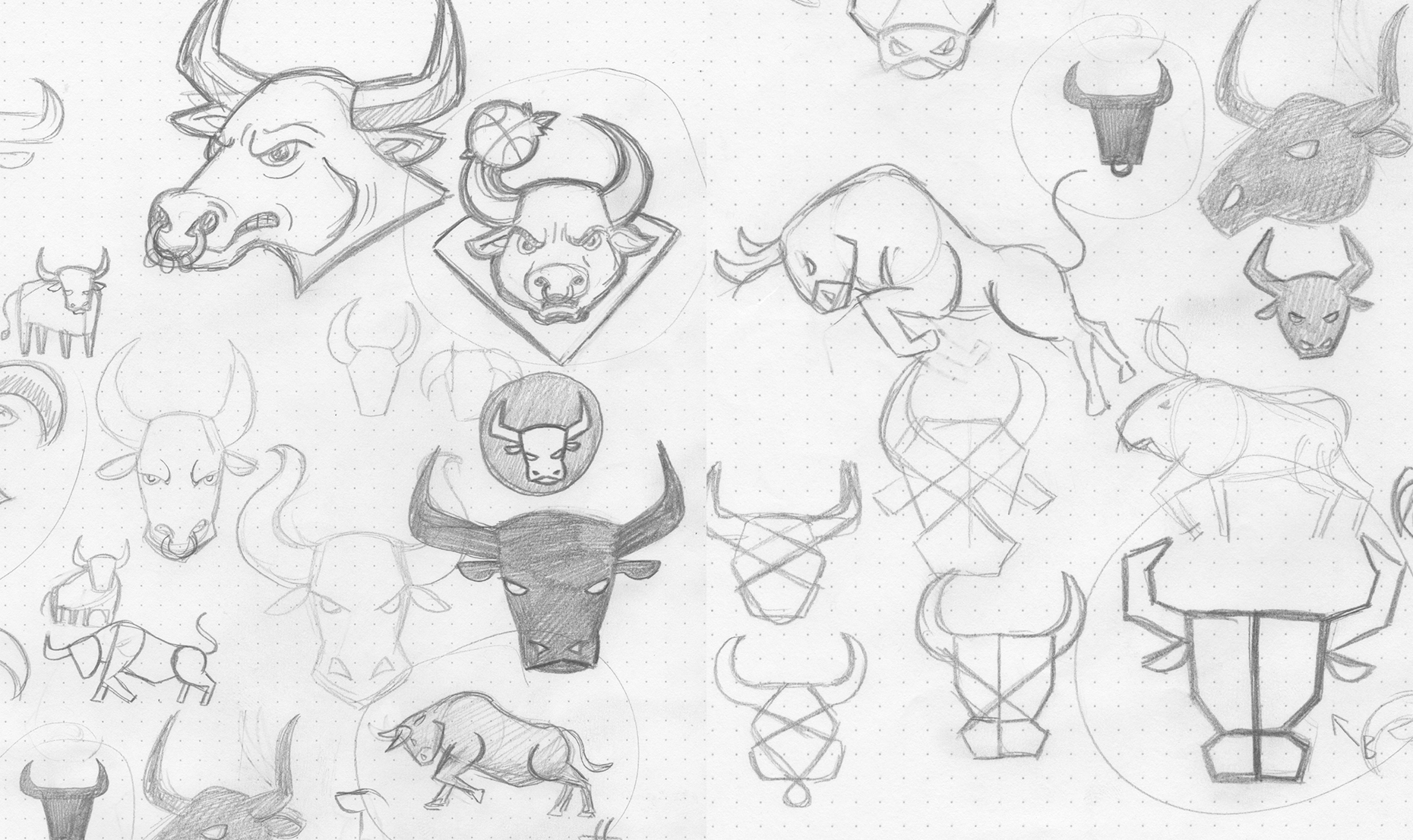 I selected 3 or 4 routes to do more refined sketches. I liked both the minimal and cartoonish versions. But in the end I decided to go the route that seemed to me to be the best of the two. Clean and modern, but with enough 90s angry animal to be fun and marketable – it is sports after all!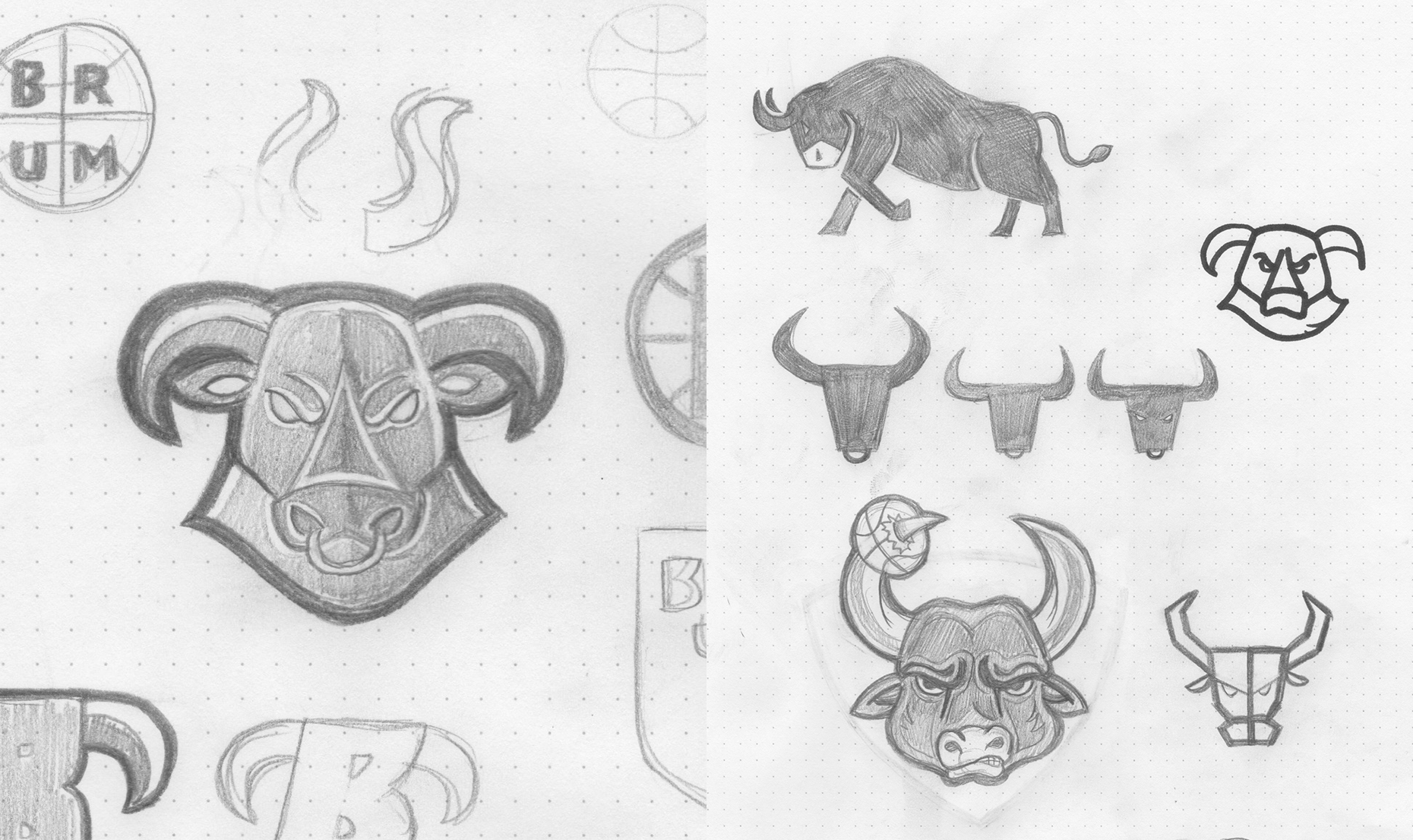 Next was taking the logo into Illustrator to create the final version. I stuck pretty close to the sketch but experimented with light and shade.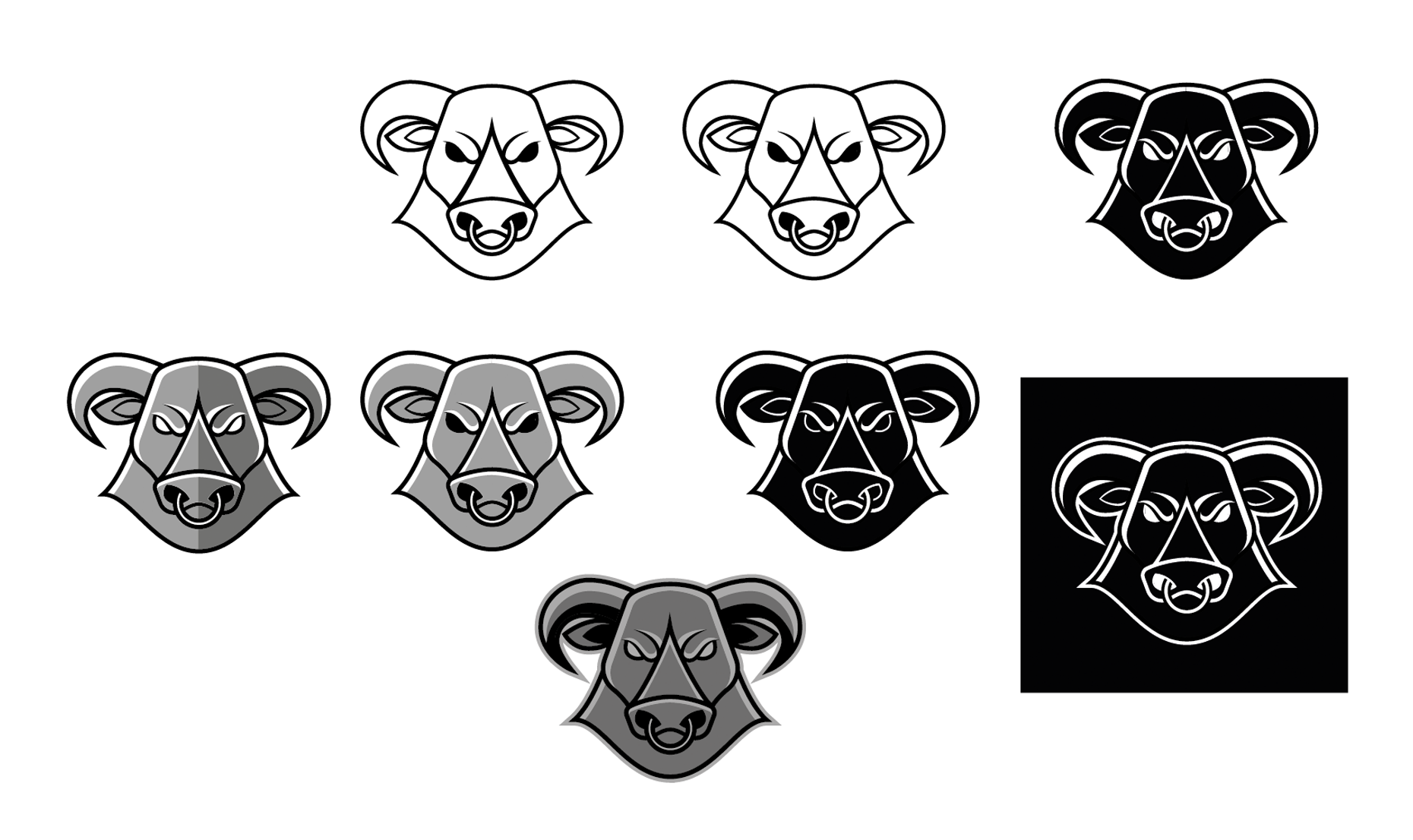 Colour was the next step. I wanted to avoid any association to the Chicago Bulls so red was out. I also wanted a colour scheme that made sense for Birmingham.

I chose two shades of a bluish grey to pay homage to Birmingham's industrial routes, the famous canals that wind through the city and the famous Selfridges building, in addition to a stylish black I added a golden yellow accent colour, referencing the original Bullets uniforms.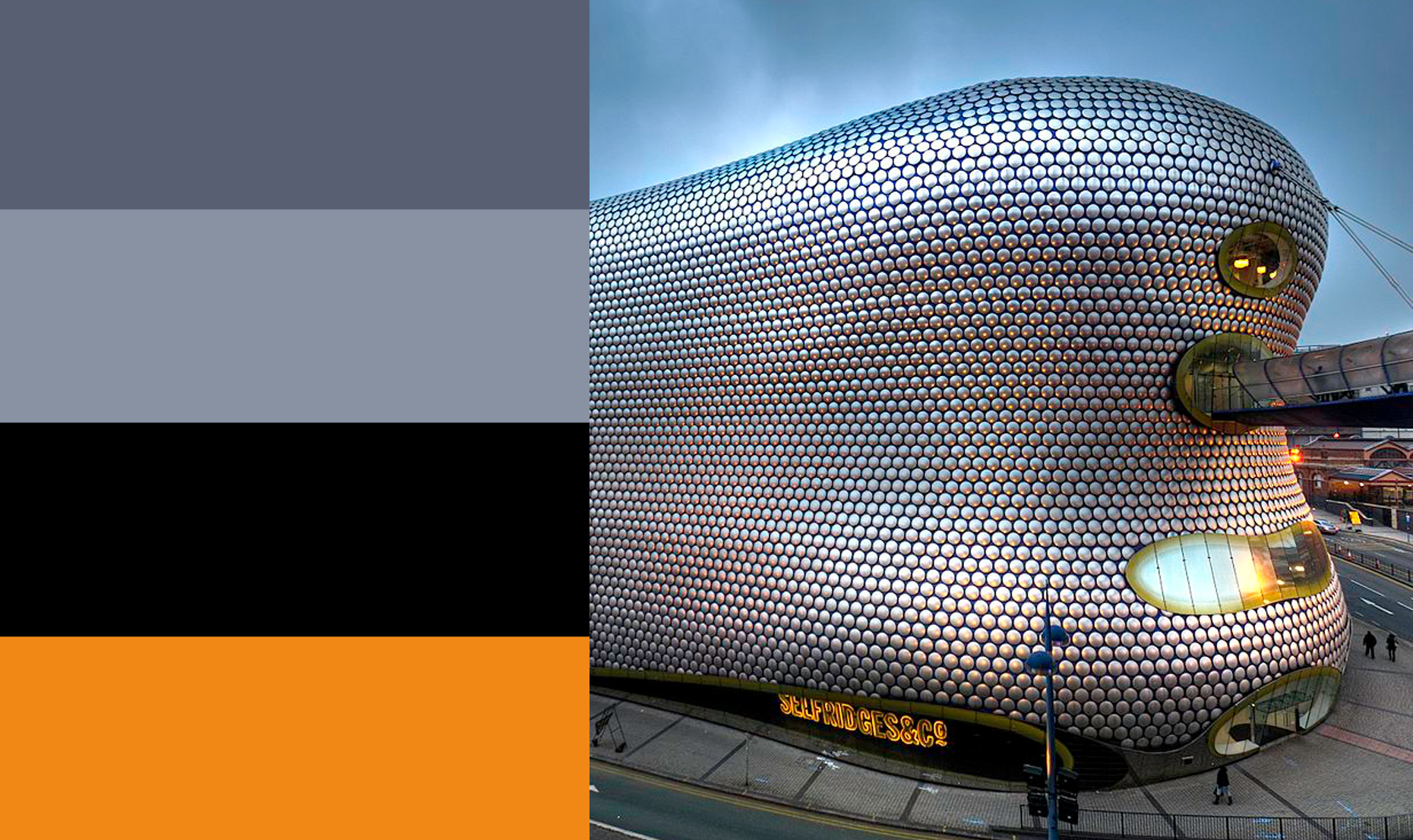 Wordmark
During initial sketches of the word mark it became immediately clear I wanted a chunky, strong, bad-ass typeface worthy of the name.
I tried some of the usual sports lettering with random spikes and angles, but the wide, solid version is what i always came back to.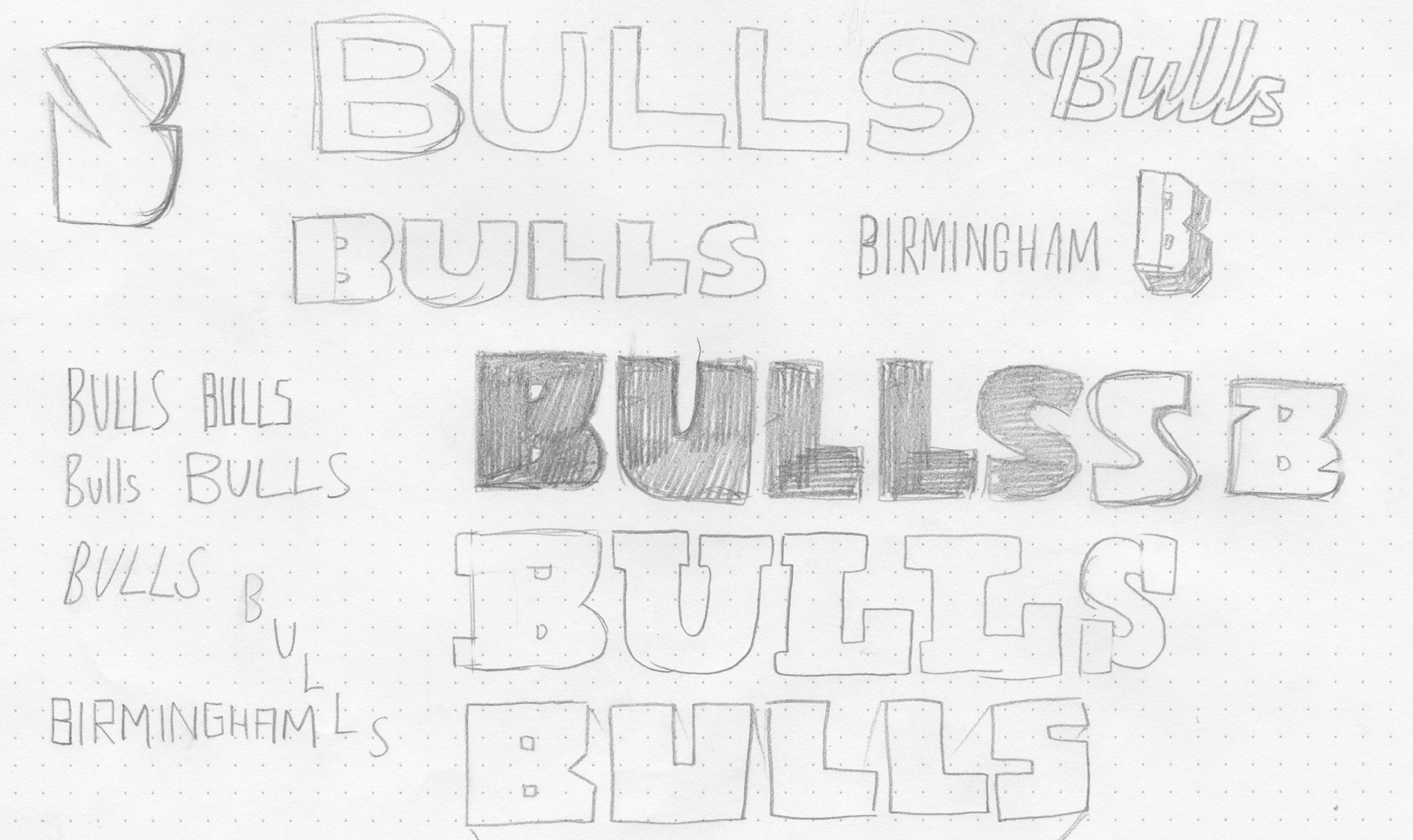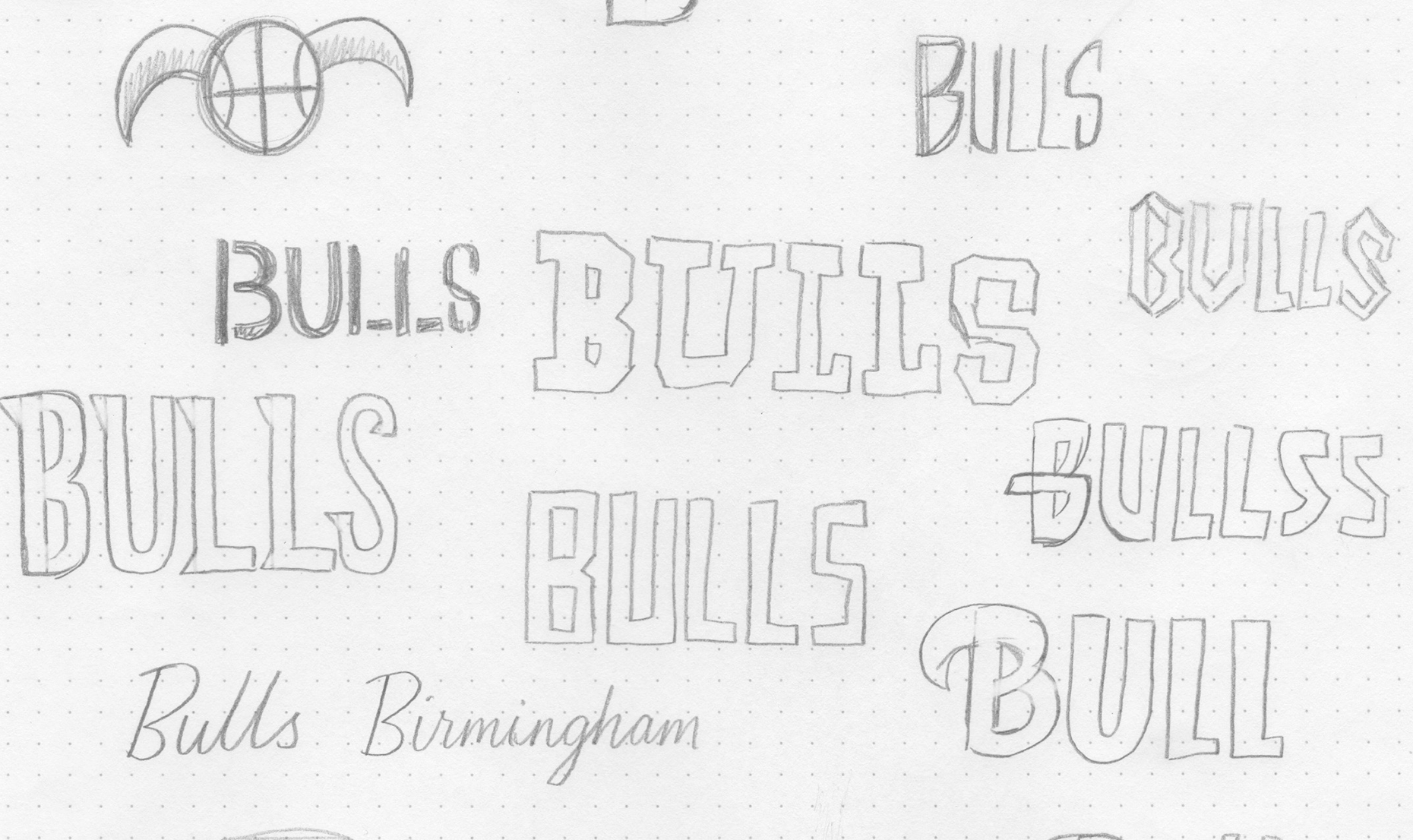 The final Bulls logo combines a heavy, bold and strong word mark - with just a hint of quirk to give it some personality – and a tough, imposing bull inspired by the bronze statue.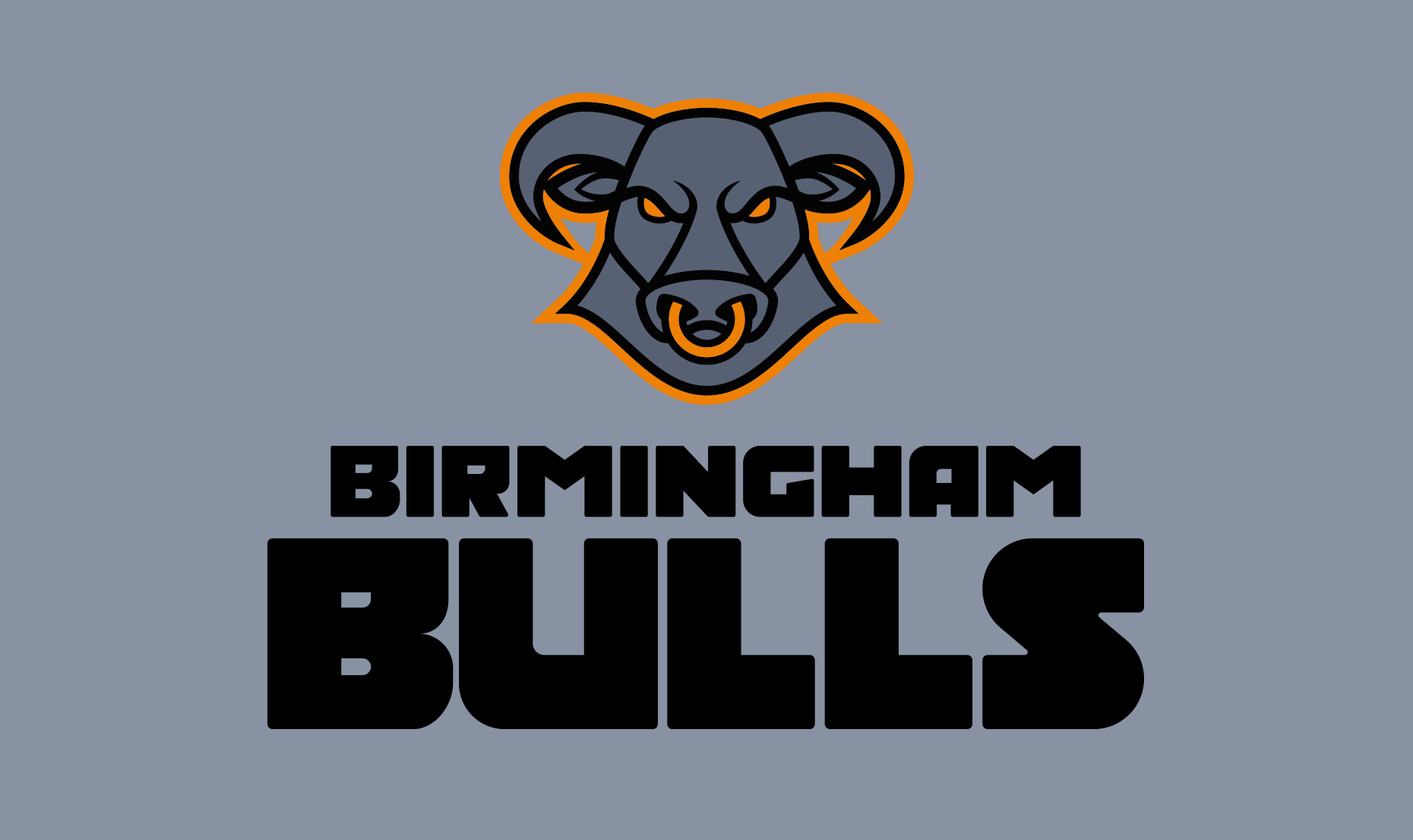 Alternate logos
As this is a comprehensive identity I worked on some alternate logos for other uses on merchandise and team collateral

Uniforms
The uniforms were simply a case of applying the identity in an interesting way. Being a big Nike fan, I used their system of four jerseys – Icon, Association, Statement and City. I brainstormed some ideas for potential city jerseys (a special uniform, often breaking away from the main identity, that represents the city) I decided on the Black Sabbath version for this project, but I have a list and may add some versions another day!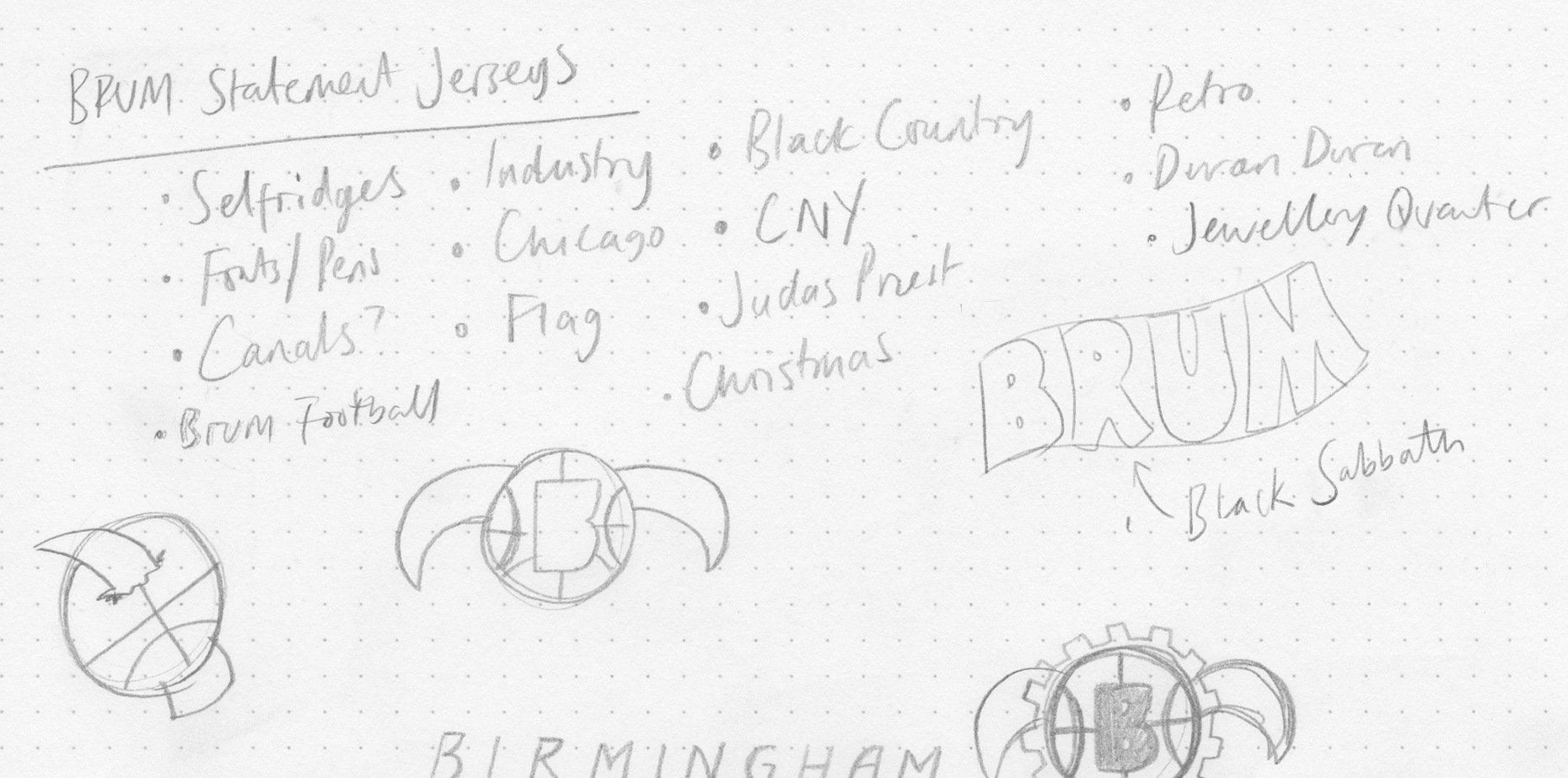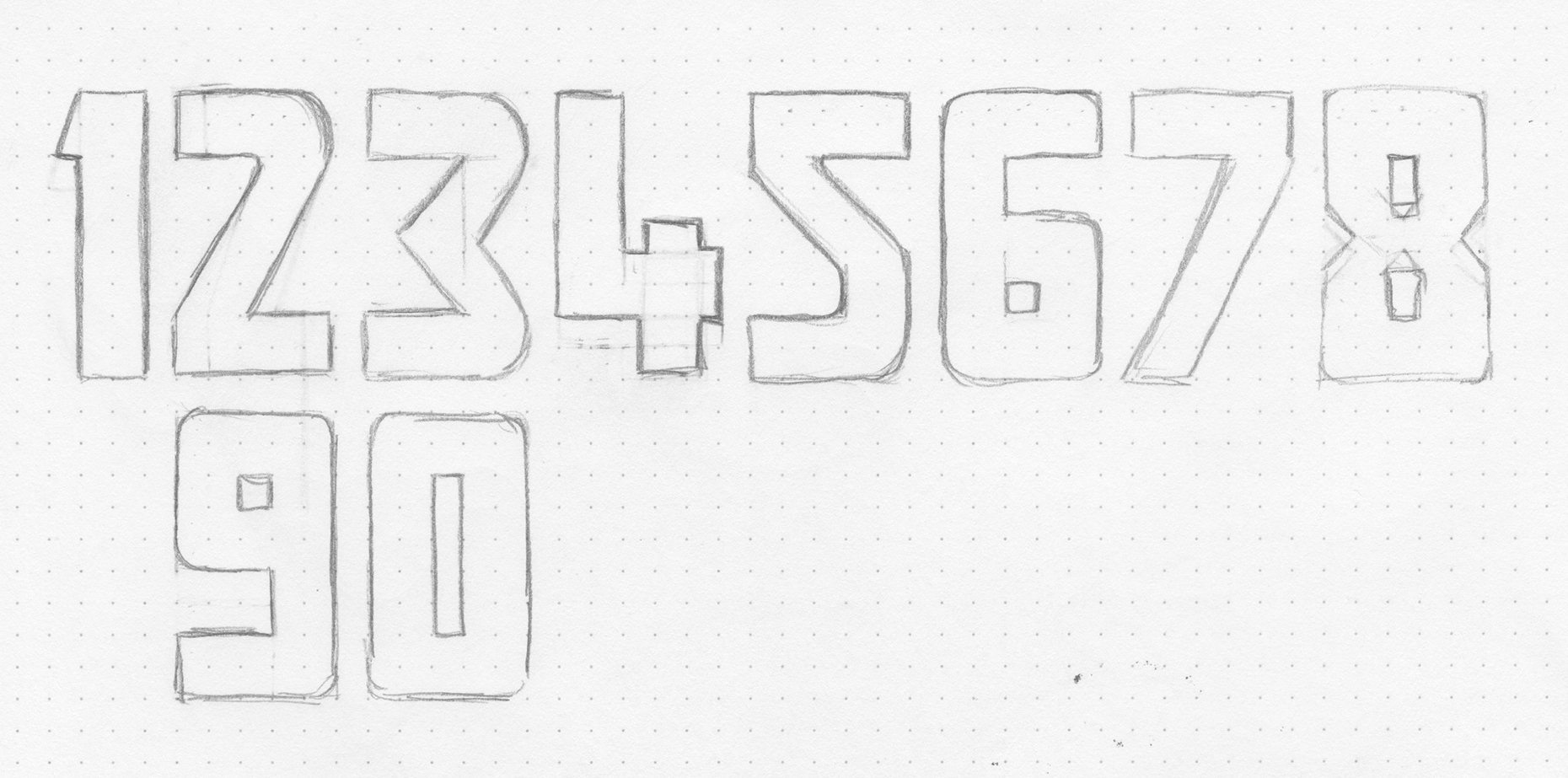 Marketing and Merchandise
With the identity in place, I set about applying it to marketing materials and merch, like posters, social media graphics and of course a big foam finger.
For those materials I developed a main slogan "Charge Forward" inspired by the name and the motto on Birmingham's coat of arms: "Forward". I also used a secondary slogan for the launch of the new team "Guess Who's Back?" to drum up some buzz for the hypothetical first game.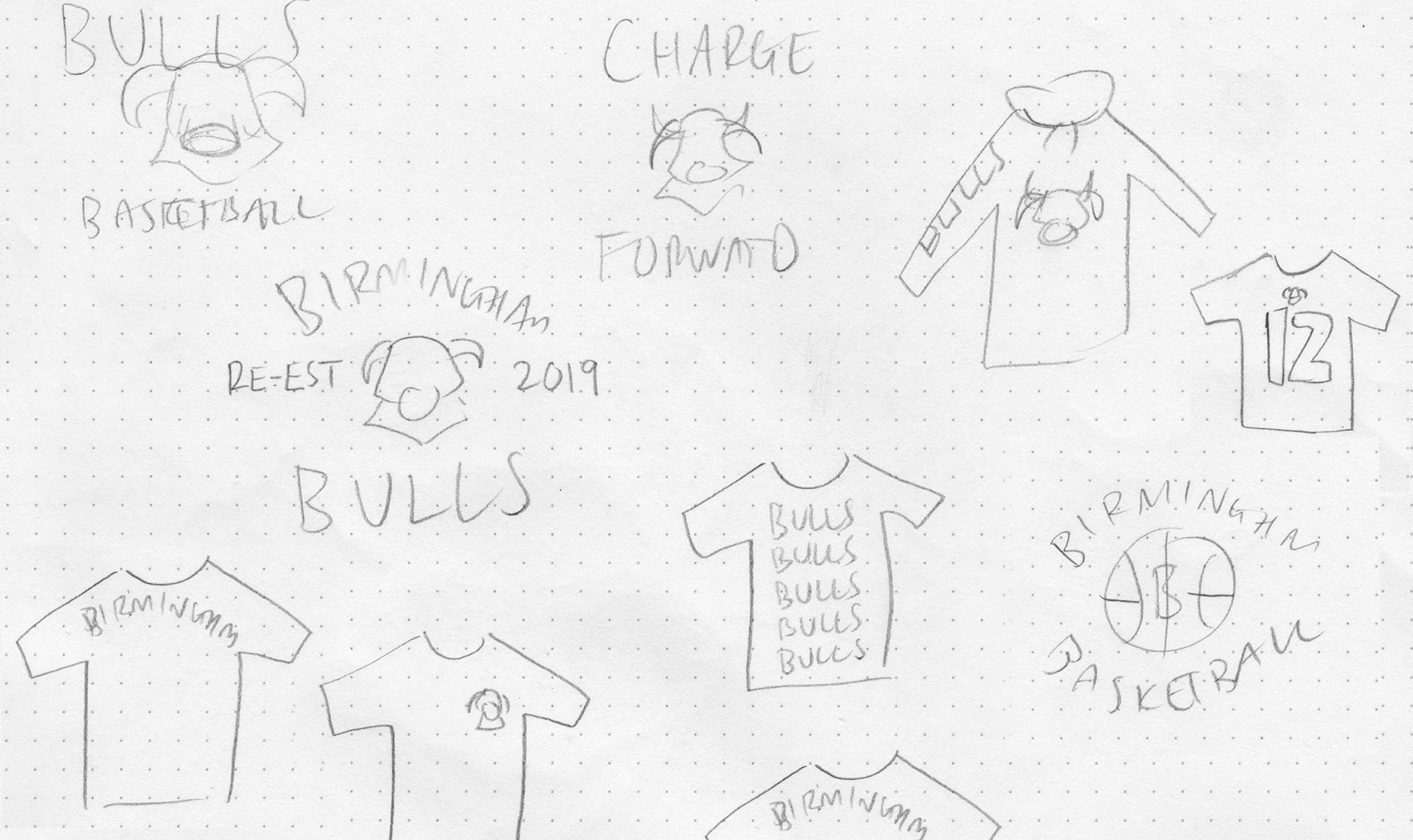 Thanks for reading and if you happen to be a Birmingham based basketball team, or any sports team, any where, or any business or individual that needs a complete brand identity,
get in touch
and let's work together!